"We don't have a choice on whether we DO social media, the question is how well we do it."
– Erik Qualman
Over three billion people are active social media users, equalling 39% of the world's population. That's huge!
With a number as humongous as that, it is imperative for brands to switch to social media to make an impact on the buying decisions of their target audience.
In this blog post, we talk about some effective social media engagement strategies that are sure to guide you to success.
1. Share relevant news
Sharing recent and relevant news from credible sources that are relevant to your industry is a great idea to drive more engagement! You can also update your audience about the recent changes in technology or any latest event that took place in your organization.
Example:
2. Ask relevant questions
Create engaging social media captions which encourage conversation. Asking open-ended questions can initiate interaction and result in good engagement!
Example:
You can also use social media polls to ask for feedback on products or to engage with your audience in a fun way!
3. Incorporate some humor
Infusing humor into your social media posts is a sure shot way of increasing engagement! Uploading witty and satirical images and posts can help you transform the way people view your brand.
Example:
4. Always cross-post
A popular strategy often used by several brands, cross-posting involves uploading the same content on multiple social media platforms at once. This not only enables you to easily remain active on all networks but also helps save time. For example, you can create one stellar video and cross-post it to broaden your reach on various platforms at once!
Example: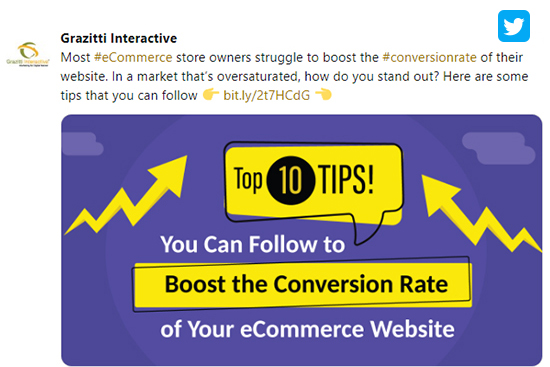 5. Share curated content
Apart from posting original content on your social media platforms, you can also keep your audience engaged by sharing relevant curated content! This helps in positioning your brand as a thought leader, increasing organic traffic, and connecting with brands and influencers of your field.
Example:
Summing up
Increasing social media engagement is an ongoing task! Start including these 5 strategies to drive more traffic and boost conversions. What social media engagement tactics work for you? Tell us in the comments section below!
Need Help With Your Marketing Strategy? Contact Us!
At Grazitti Interactive, we have an experienced team of digital marketers who can help you plan, strategize and execute your digital marketing campaigns. Feel free to reach us at
[email protected]
to know more about our digital marketing services.
Subscribe to our blog
Stay up to date with the latest industry-related content.
Thank you for Subscribing!
What you think?
2 Responses
Loved it